Do Comics Imitate Life or Does Life Imitate Comics?

A note before my rant: my comics now have their own page!! Want to see them? Go there now!
All right, I admit it. I'm a comics addict. A comics junkie. A comics slut. Call me what you will, but I love comics. Especially the little independent kind put out by companies like Slave Labor Graphics (see below for the snailmail address).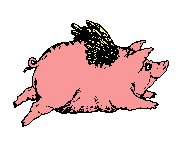 Granted, I love some of the work by bigger artists and writers (like Neil Gaman's Sandman series), but there's a special place in my heart for those women (and men) who put out their own 'zines and comics and videos and music.
One especially nice thing about independent artists is that when you order their work, they'll often include a hand-written note to you, and if you send them drawings or etc., they'll actually look at them and comment on them. Cool? i think so.

One of my credos is "Take Action", which I actually adopted from a very cool chick who puts out a little comic anthology-type book called "Action Girl": Sarah Dyer. She works with Evan Dorkin of "Milk & Cheese" fame, and both their independent work and their joint projects are Very Cool. They even have a webpage called the House o' Fun.

Anyhoo, back to our sheep. Below are some addresses where you can write for catalogs & comics. feel free to email me with more addresses &/or your comments. (please tell me if i've made any typos so i can fix them!)

write here to request a catalog or order:
Slave Labor Graphics (these guys do Action Girl, Milk & Cheese and many more!)
979 South Bascom Avenue
San Jose, CA 95128

You'll find lots of awesome comics in the SLG catalog, but here are two that I've found exceptionally good: Johnny the Homicidal Maniac and Squee!, both by Jhonen Vasquez. JTHM is about, well, a psycho guy named Johnny ("but you can call me Nny") and his homicidal exploits; this book also includes two mini- comics: Johnny's own strip, Happy Noodle Boy, and Wobbly-Headed Bob, which is thrown in at random interludes. Squee is Nny's little neighbor, who now has his own book out which is all about the trials of youth. These books are both a bit wacky and twisted, but hilarious and perfect for anyone with a slightly sadistic sense of humor.

Info: (write to SLG; address above)
JTHM #1-7, $2.95 each
Squee, #1-4, $2.95 each
and now! the JTHM collection! #1-7 compiled into a book, along with 20 pages of sketchbook material and other random goodies. $19.95

---
Here's another artist whose work is very impressive. The A-Girl books are a bit roughly done, but if you can get your hands on any of Elizabeth's Action Girl stuff, you'll see her true talent. A-Girl stands for various things, such as Asexual Girl, and she is quite a character. She is a tough little chick with a penchant for boys' clothes (hmm... surprisingly similar to myself, eh?) who likes girls, and she gets into some wacky scrapes in her travels.

Info:
Elizabeth Watasin
120 S. San Fernando Bl. #231
Burbank, CA 91502-1321

here's a list of Elizabeth's stuff:
Adventures of A-Girl! #1-4 ($1 each)
A-Girl, Etc.! #1,2 ($1 each)
A-Girl Misc.! #1 ($1)
A-Girl is Swanky! (.50)
Elizabeth's Pritty Pictures Book (.50)
Elizabeth will even send you a neat li'l newsletter and maybe a temp tattoo with your comic order! swanky!

---
Vagabond Press
PO Box 320
Palos Park, IL 60464
or email them at: VagabondTG@aol.com

These guys publish the books of one of my favorite artists, Kris Dresen. She and Jen Benka put together a bunch of books called Manya, which are excellent little stories. Here's the info:
(note: these books don't need to be read in a certain order, which is why i didn't number them)

Manya: Marie
Manya: 3-1/2 Hours and Five Cups of Coffee
Manya: Poetry, Prose, and Mosquitoes
Manya: Falling
Manya: In The Meantime (coming soon, Kris promises!)
...and coming up @ the end of '98: a collection of books #1-4
Write To: Manya, c/o Vagabond Press (see address above)


For more of Kris's work, look for Max & Lily, her new book coming out soon!
---
more addresses to come!

Can't get enough comics? Try Arran's page for his stuff...


sparkyville | my comics | booklist | gsa page | comment form

This page created by Sparky ( kumquat37@hotmail.com )
this page last edited on 06/21/98